Today starts the 8th. Baska Outdoor Festival ( BOF ), an event where professionals and enthusiasts of various sports and outdoor activities gather together to enjoy the experience of one of the most exciting events on the island of Krk, which in one weekend brings together all the outdoor forces and resources that Baška has at its disposal.
Thus, from October 14 to 16, all lovers of an active and sporty lifestyle will find an activity for themselves through five attractive outdoor sports programs and a multitude of accompanying sports, educational and entertainment content.
From the position of the destination as the most popular off-season event in Baška, this means that BOF will come to Baška more than 2000 visitors who will enjoy an intense and entertaining three-day program, organized by the TZ of the municipality of Baška in partnership with Valamar Riviera and numerous organizers of sports events.
If we look at the numbers and consumption, guests must arrive the day before and thus get 4 nights. Of course, some will choose two or three overnight stays, but one thing is for sure, the Baška Outdoor Festival has become a reason to come, which generates close to 10.000 overnight stays in October. Along with visitors and locals, serious tourism spending is generated throughout the weekend in August.
It was during the Baška Outdoor Festival in 2018 that Baška celebrated its first millionth overnight stay in Baška, and this great success was repeated this year. So on Friday, October 7, Baška recorded its millionth overnight stay in 2022, which is the best indicator of the results of intensive work and progress after two really challenging tourist years.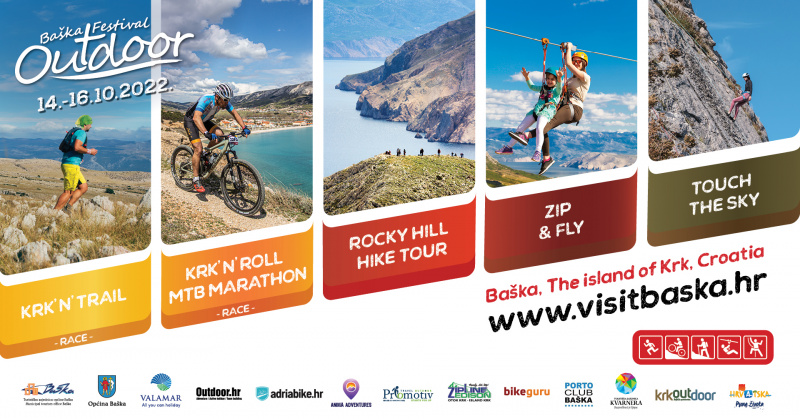 The primary motive for coming outside the summer season is content, quality content. In this case, BOF whose ambition, from the very beginning, was to become one of the leading outdoor events in Croatia.
Baška Outdoor Festival offers enjoyment in five attractive outdoor sports programs, from trail running, mountain biking, through hiking to sport rock climbing and zipline.
The program starts at Friday, 14.10., adventure Zip & Fly, organized in cooperation with Zipline Edison. During Friday, Saturday and Sunday, all registered adventurers will be able, at a promotional price, to try driving an all-terrain vehicle, walk in nature and descend on cables longer than two kilometers! The ride of a lifetime, with a total duration of approximately two hours, with a view of Baška, the sea and the island of Prvić and the beautiful rugged landscape is a unique experience that you don't want to miss!

U Saturday, 15.10., many challenges are offered, the biggest of which may be which activity to choose! In the competitive part for cyclists, he took care of it Adria Bike, which organizes the 6th edition of the now legendary Krk'n'Roll MTB Marathon (e-bike and mtb), with three carefully prepared tracks of different lengths, 70, 46 and 27 km, intended for women and men. Trail lovers are also in for a treat, 12th edition of the first Croatian trail race Krk'n'Trail (Krk Island Trail), competitions organized by him Trekking league in three length/weight categories: 7, 14 and 24 kilometers.
Both amateurs and those looking for greater sporting challenges will be able to enjoy the race. It should be mentioned that the race route includes still undiscovered trails of the southern part of the island of Krk, which pass through some of the most beautiful bays in the vicinity of Baška!
Baška can boast of even four equipped climbing areas which equally satisfy those who are new to climbing and those for whom conquering peaks is already a lifestyle. Due to the great interest in climbing on natural rocks in the vicinity of Baška, climbing is organized at two locations - at the Portafortuna climbing site in Saturday, 15.10. and at the Belove stene climbing area in Sunday, 16.10.
Apt name program Touch the sky it is also suitable for beginners (from the age of 12), and all lovers of heights will be taught climbing by an expert team Anima Adventures.