The Ministry of Tourism and Sports and the Croatian Tourist Board invited all tourist boards in Croatia to planting trees in order to compensate CO2 emissions from tourist vehicles
Climate change is one of the biggest ecological, socio-economic and political challenges of today. The European Union has set high climate-related goals - with the help of the Green Plan, Europe should become the first climate-neutral continent by 2050 - that is, a continent that removes as many CO2 emissions as it produces.
According to Eurobarometer data on the attitudes of Europeans about travel, the majority of European Union citizens expressed their willingness to change their habits in order to travel more sustainably, by consuming local products, reducing waste, reducing water consumption, traveling outside the tourist season, choosing transport options based on environmental impact or in turn contributing to carbon offset activities such as tree planting.

The Ministry of Tourism and Sports and the Croatian Tourist Board have prepared a project precisely with the aim of ensuring a greater contribution of the tourism sector to reducing the negative effects of climate change. financing of tree planting in tourist destinations throughout Croatia.
The invitation to participate in the project has been sent to tourism associations, which have the possibility to organize the planting of native trees already this year. The project implemented by the Ministry and HTZ is part of a broader plan based on which an additional 2030 million seedlings should be planted in Croatia by 10.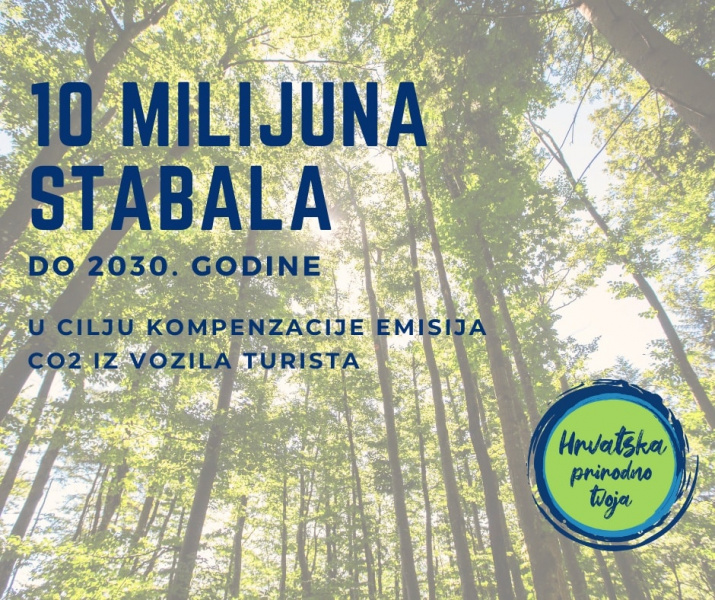 When choosing types of seedlings, tourist boards should take into account indigenous species, the climate, and each seedling will be marked with a mark of the sustainability of Croatian tourism - Croatia is naturally yours.
"One of the strategic goals in our new Strategy is tourism with preserved environment, space and climate. It is very important to position Croatia as an innovative and sustainable tourist destination that uses its own resources responsibly. It is precisely with this goal that we initiated the project of additional tree planting, which will contribute to compensating CO emissions2 from the tourist's vehicle. In order to ensure the implementation of the project in all tourist destinations, we invited tourist boards throughout Croatia to join this project, for which financial resources will be provided by the Ministry of Tourism and Sports", pointed out the Minister of Tourism and Sports Nikolina Brnjac.
"Developed environmental awareness of each individual is important for the future of Croatian tourism. Today's technology allows us to have a very precise insight into the impact of tourism on the resource base and natural wealth, and this tree planting action is only a small part of what we can do for the nature that surrounds us. I am sure of an excellent response from my colleagues from the system of tourist boards and all other tourist entities, because the task of all of us is to preserve and further strengthen the position of Croatia, which is already recognized globally as a destination with an extremely beautiful landscape and preserved natureHe said Kristjan Staničić, director of the Croatian Tourist Board.

Photos: Casey Horner on Unsplash