A panel discussion was held during one of the world's most important tourism fairs, ITB in Berlin, organized by the World Tourism Organization (UNWTO). "Connecting sports tourism and health" where one of the participants was Kristjan Staničić, director of the Croatian Tourist Board.
In addition to director Staničić, the panel was attended by Patrick Torrent, executive director of the Catalan Tourist Organization, Ceylan Sensoy, marketing director at the agency for tourism promotion and development in Turkey and Simone Zagrodnik, executive director of the European Association of Historical Thermal Cities.
"Croatia is widely known in the world for its sporting successes, but also for tourism, so this discussion was a perfect opportunity to further highlight our country as a relevant destination that can share its experiences and knowledge in an international framework. We have a number of examples that we highlighted on this occasion, such as WRC Croatia Rally, ATP tournament in Umag, CRO race, which prove the synergy of tourism and sports in Croatia, considering that our country hosts numerous sports events, from competitions and tournaments to quality congresses and business events, and we are very well recognized and as a destination with a rich tradition in health tourism. These are segments of our offer that we will continue to develop and thus ensure a further increase in the quality of the overall Croatian tourist offer.", said Kristjan Staničić, director of the Croatian Tourist Board, reminding that Croatia, that is, Zadar, will host the II. of the UNWTO World Sports Tourism Congress.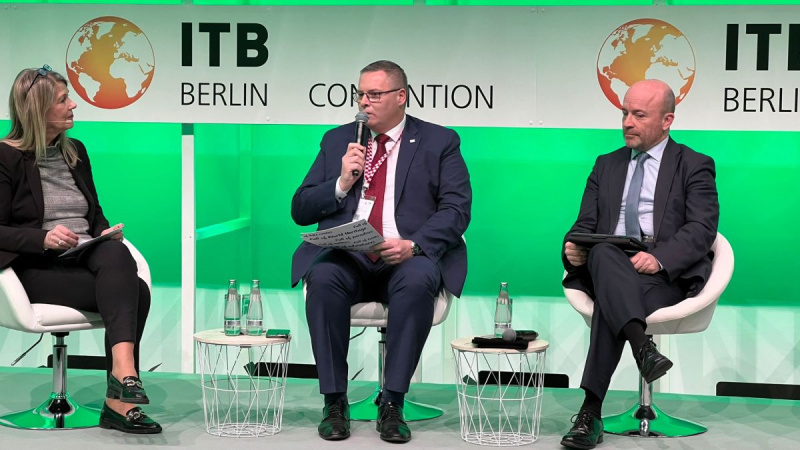 The introductory speech before the panel discussion itself was given by Ion Vilce, director of UNWTO's associated members, and at the very end of the discussion, Josip Pavić, State Secretary in the Ministry of Tourism and Sports of the Republic of Croatia, made concluding remarks, while the discussion was moderated by Rika Jean-Francois, ITB commissioner. for socially responsible business.
The panel discussed, among other things, the Croatian National Sports Program from 2019 to 2026, which is also the first strategic sports planning act in Croatia, and its implementation will create additional opportunities and motives for investing in and improving the Croatian sports identity. Likewise, the importance of quality synergy between sports and health tourism and sports medicine was highlighted, and Croatia was particularly highlighted as a country of top athletes and numerous natural health resorts, spas and institutions specializing in physical therapy and rehabilitation.
Let us add that by participating in this panel, the Croatian Tourist Board concluded a successful presentation on the German market during the ITB fair, where a significant success was achieved, which confirmed the great interest of German partners, as well as the media and travel enthusiasts themselves in Croatian destinations, i.e. Croatian tourist offer.
Source and photo: Croatian National Tourist Board