Join us on Wednesday 22.12.2021. and learn how to get a grant from EU funds in tourism.
In order to educate themselves and later successfully apply for their projects, within the EU Recovery and Resilience Mechanism for Tourism, in which Croatia was granted 2,2 billion kuna.
As part of the preparation for the implementation of the use of funds from National Recovery and Resilience Plan (NPOO) - Development of sustainable, innovative and sustainable tourism, with the aim of educating entrepreneurs in tourism as well as possible and later successfully applying for their projects, organized by Aestus Consulting team and the HrTurizam portal, a webinar is being organized: How to get a grant from EU funds in tourism - NPOO?
Croatia has at its disposal 2,2 billion through the Mechanism of Recovery and Resilience, which are the largest funds provided for tourism so far.
To the Republic of Croatia from the Mechanism of Recovery and Resilience of the EU for Tourism through Subcomponent 1.6 - Development of sustainable, innovative and sustainable tourism, which includes the reform of the tourism sector and related investments, funds provided for regional diversification and specialization of Croatian tourism through investments in the development of high value-added tourism products intended for the public sector in the amount of HRK 930 million.
Furthermore, strengthening funds have been provided sustainability and fostering a green and digital transition entrepreneurs in the tourism sector worth more than 1,2 billion kuna intended for the private sector. Funds for the private sector are intended for small and medium-sized enterprises, for the transformation of private renters into entrepreneurs in tourism and to encourage clustering activities and research and development in companies in the entire value chain of tourism and hospitality
Publication of public calls is planned for the third quarter of next year.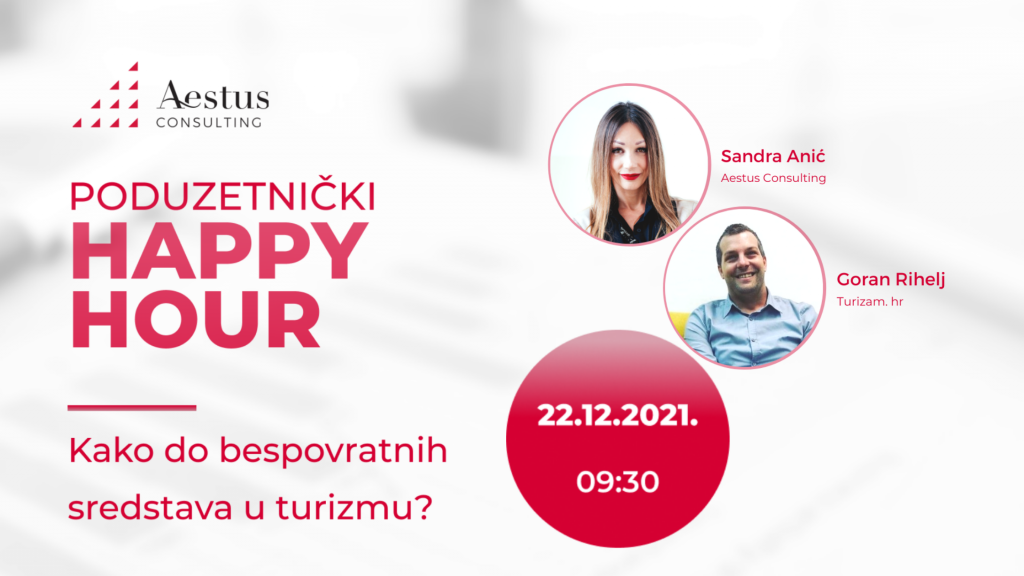 You will learn all about grants from EU funds and NPOO from Sandra Anić, project managers Aestus Consulting team and moderator Goran Rihelj, owner and manager of the Turizam.hr portal, the leading professional tourist media in Croatia.
It is a free online webinar organized by the Aestus Group during which participants can ask questions to experts regarding grants intended for tourism in 2022. Entrepreneurs from the tourism sector will find out how and when they can use grants from EU funds.
The free online event will take place in Wednesday 22.12.2021/XNUMX/XNUMX. starting at 09: 30 hours.
The entire event will be held through the Microsoft Teams application. To register for the event you need to fill out a short online form at link. You will receive instructions and an access link to your e-mail address 1 hour before the start of the event.
Fill out the application, prepare your questions and see you on Wednesday at 09:30!
Application: Entrepreneurial happy hour: How to get a grant in tourism?